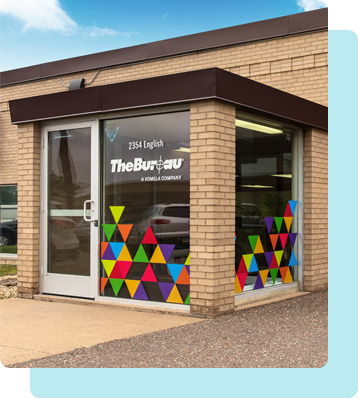 WHY THE BUREAU
With roots dating back to the late 1800's—The Bureau has refined skills and more experience than most other companies in the print space.
With an average tenure of nearly 30 years, the team sets our bar high. We strive for perfection through impeccable customer service and quality—delivering on it, time after time.
The Bureau brings a unique offering to any customer through offset and digital printing, mounting, and die cutting—all under one roof. We pride ourselves on providing full service solutions and have invested in state of the art equipment to provide a full range of services and capabilities.
HISTORY
1898 Edwin F. Bauer founded the Bureau of Design, a commercial art company

---
1914
Renamed The Bureau of Engraving, Inc. started the Art Instruction Schools to help with the lack of trained illustrators for a growing printing and advertising market
---
1954
Opened the doors to a circuit board manufacturing facility, which remained in business until 2003
---
2004
Added a digital print division
---
2006 Completed a major technology overhaul, upgrading every piece of technology within its walls
---
2010 Acquires a new 73" 6-color Manroland Press
---
2012
Upgrades 73" Manroland press to UV
---
2014/2015 The Bureau is acquired by The Vomela Companies and moves operations, adding a 40", 6-color UV Manroland press to its new facility in Maplewood, MN
ABOUT THE VOMELA COMPANIES
In 2014, The Bureau became a member of The Vomela Companies team, providing concentrated expertise in commercial, POP, and packaging printing services. Founded in 1947 by Jack Vomela, the Vomela Specialty Co. specialized in printing and die cutting. Throughout its 70+ year history, The Vomela Companies have grown and diversified its services through an ever-expanding network that now includes more than 20 locations.